Korian Mobile giant company samsung come india with their new samsung galaxy m33 smart phone with decent price budget. Samsung galaxy m33 is 5G phone so here they provide 12 5G bend and it's price is under 20000. Samsung called it monster series because it come with 6000 MAH large battery backup with 25 w fast charging.in this phone samsung provide all your need with their features like 5nm chipset ,120 HZ NFT display , camera features, High and midrange procceser.
GALAXY M33 5G PROCCESER
Here Samsung provide a high mid range procceser for M33 phone. Samsung provide strong procceser and chip for multi-task , gaming etc. Exynos 1280 procceser and 5nm Octa-core Processor for level up your gaming. Up to 2.4 GHZ clock speed for your phone speed and multi tasking. This handset is come out of box with Android 12 latest Android version with One UI 4.1 so you enjoy this phone with new version of Android and this procceser make your phone Power up and enjoy impeccable speed and performance with a device that's up for it all.
This procceser is a good in decent budget smartphones because casually you see that type of procceser in high range smart phone. When you use this phone for gaming it's gave a excellent performance, you can't feel any lage or frame drop.
Design of samsung galaxy m33 5G
Samsung galaxy m33 5G come with 2 main colour Green & Ocean Blue. 215 grams phone come with 165.4 mm High, 76.9mm width and 9.4 mm thickness. It's looking very Lightweight and looking stylish when you hold this phone. Back made with polycarbonate. Here left side you get a fingerprint sensor and volume keys, sim slot is set in the right side of phone .
This phone have a 4 camera set up and there all are camera located in corner so your phone looking dashing and royal . You can hold this phone very easily. You can also use it with one handed very easily.
Samsung galaxy m33 5G 120HZ display
Samsung galaxy m33 have 6.6 inch TFT LCD display with 20:9 aspect ratio who support 1080 x 2408 pixels resolution. Here company provide 400 ppi Pixel Density. Here you get 120HZ refresh rate option. Here Samsung gave a good display with colour contras and hd+ display.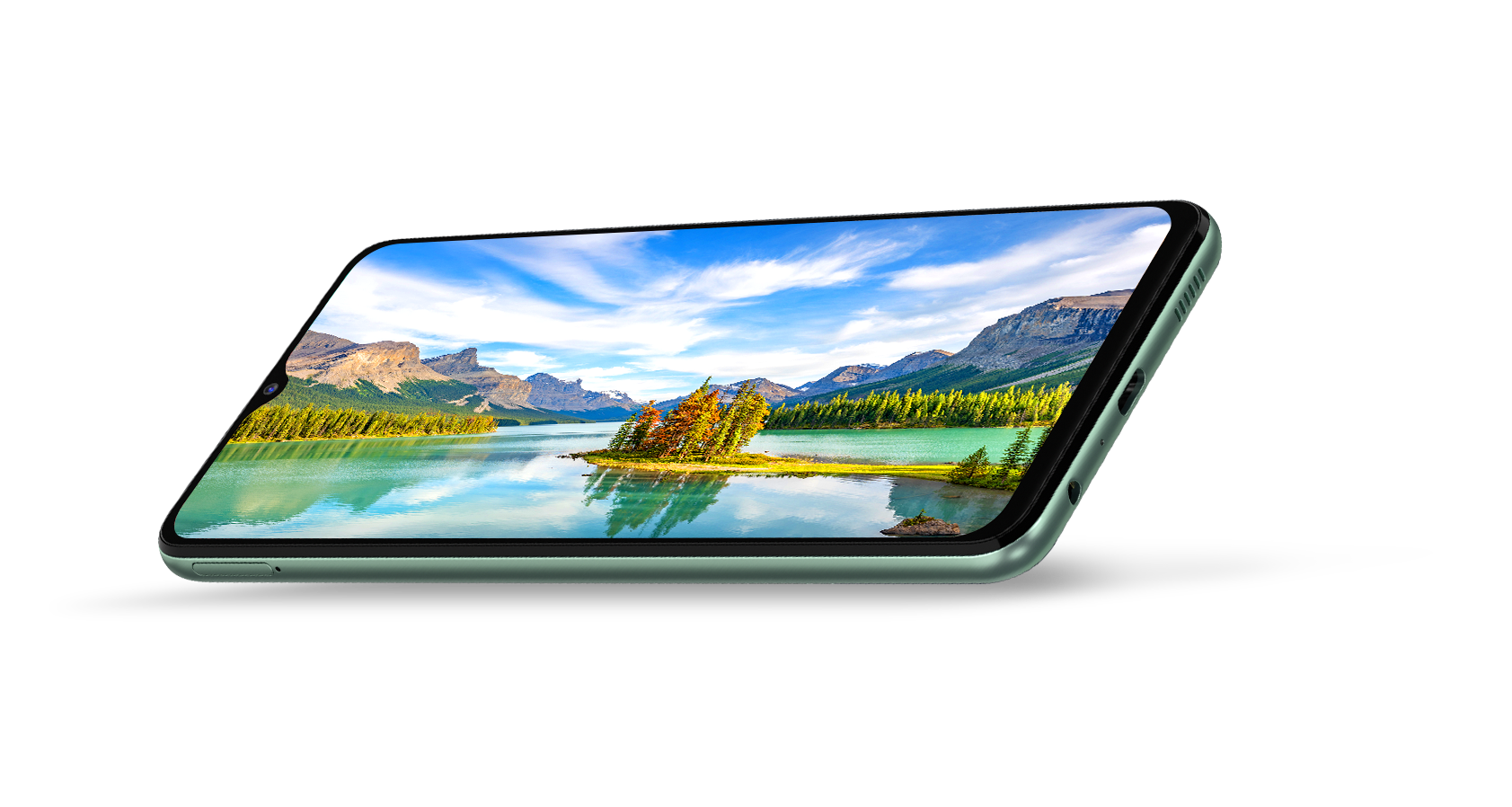 Samsung galaxy m33 5G 120HZ display
When you see video quality it is good for watching and you feel a great combination of colour. It's look outdated because of its notch display for selfi camera. This display is protect by a Corning Gorilla Glass 5 so it protect your phone display .
Samsung galaxy m33 camera
Here Samsung provide 4 camera for capture your happy moment. Here you get 50 MP main camera, 5 MP 123°ultra wide Camera ,2 MP micro camera and 2 MP depth camera. Here this 4 camera is gave you a good picture quality and nice experience of photography, here micro and depth camera is good for your pictures quality and details. This phone is provide LED flash light for your night photography.The colours, dynamic range, clarity is everything is on point so you can shoot a perfect one.
Features of M33
Samsung provide a good camera app for your pictures it have so many features to capture your perfect moment and memorized them in all life time. Here Samsung provide so many features like night mode, object eraser , panorama, wideangle photography, depth sensors, fun mode, super slow motion, potrait mode etc.
Here object earser is so useful features for all because when you take a picture some time some unwanted object is on picture so here you can erase them by this feature and it looking real not like edited.
Fun mode is useful for fun selfi, here they provide so many filter like snapchat camera so you can click funny pictures and upload it to instagram and what'sapp.
Panorama , potrait and night mode is clicked picture at various types of pictures.
Main camera video quality
Main camera gave you a good quality of video like 4K quality with 30fps and 1080p with 30fps. Here Samsung gave noise focus mode for better quality voice you use in video and also you can reduce unwanted noise for better quality.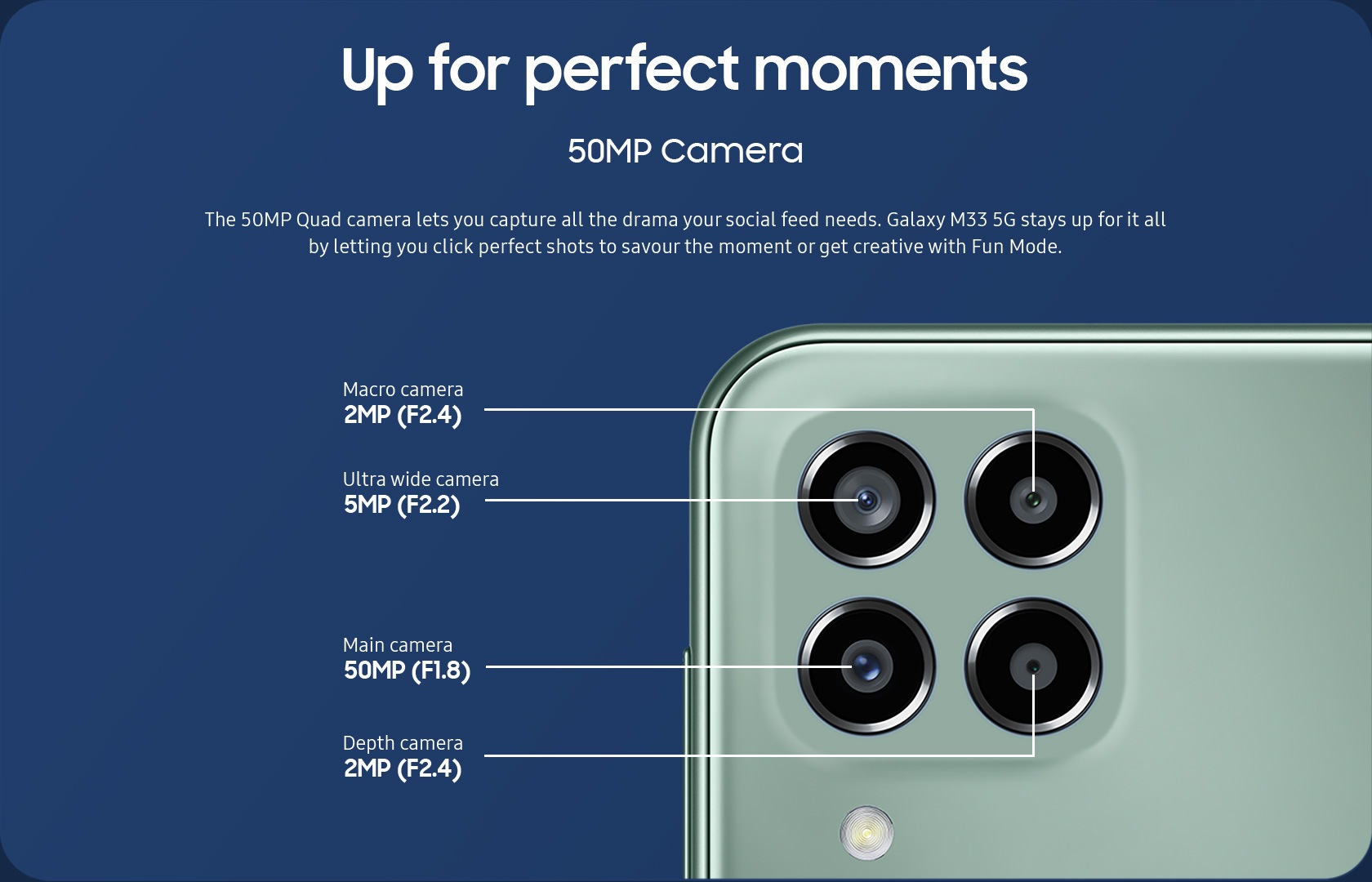 Here you can Temporal Noise Reduction enhances your videos to make them look noise free, allowing you to shoot clear videos even in low light.
8MP Selfi camera
Here 8MP selfi camera provide by samsung. It is quite good for this phone it is not high camera as vivo and oppo but this one is good .here you can capture a good selfi with your friends and family.
You can also use a funny mode here and capture funny selfi also. Here you capture a vide with 1080p quality with 30fps.
6000MAH Monster battery
In a bbatterckup samsung always gave a good battery backup, here samsung provide Li-ion 6000 MAH large battery backup with 25 W fast charging system with USB Type-C cable. Here 5 nm chip is provide you fast charging and it can reduce your battery use to 20%. So here you can play a game, video and other work for long time.
Storage & RAM features
Samsung galaxy m33 available in two storage model 6+128GB and 8+128GB. Here Samsung provide a one feauter for RAM you can increase RAM in your phone upto 16 GB it's called vertual RAM , this RAM is use for your better gaming and multi tasking work. This RAM booster is automatically applied in your phone.
Network & Connectivity
Samsung galaxy m33 have dual sim slot gsm+gsm. Both sim use as nano card . M33 phone is 5G phone it have 12 5G band but in india we haven't 5G service so you can use 4G support system also.here samsung also give one amazing feature here you can switch your mobile data one switch to other sim when your primary sim is not in network area. Samsung say that auto switching data.
Here you can use 5.1 version blutooth connection for data sharing , music handset and other work. Here you can use wireless connection by WiFi and blutooth connection. Here you can also check your phone location with GPS system.
Features
Samsung is gave you amezing features for your privacy and security and also give you a excellent experience.
Voice focus mode – this feature is so useful for everyday life when you talk on phone in public place there were so many voice so you trouble in your voice clearance so this feature cleared and focus your voice and gave clear voice other site.
Alt Z : this feature is use for privecy of your phone, it is hide your private galary to public.
Samsung pay for paying bills and transfer money.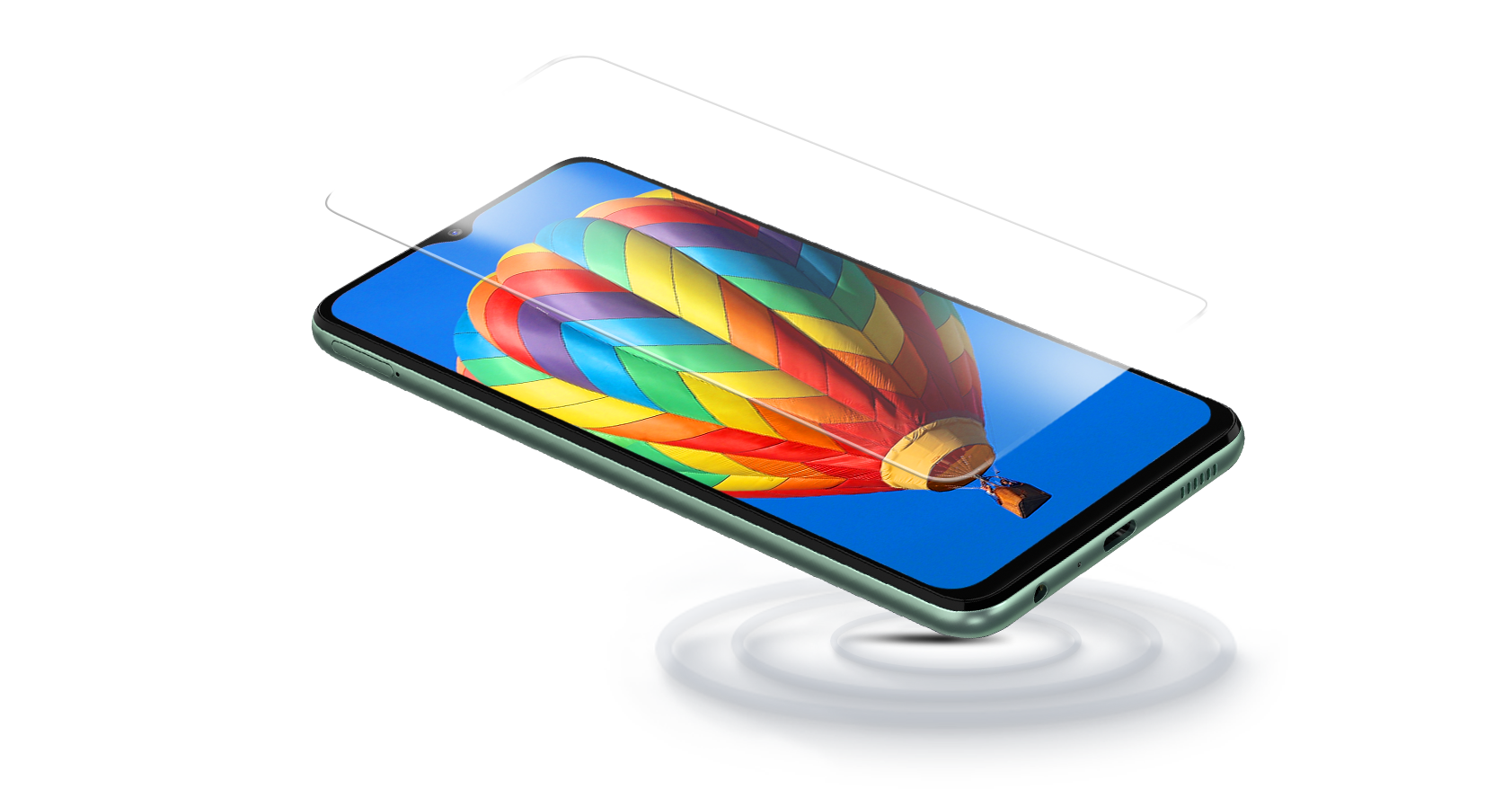 Gramerly keyboard: this keyboard help you to write correct in spelling and grammatical
Powerful stereo speaker system
Biomatric unlock system
Here you get a fast fingerprint sensor who unlock your phone in just one touch and it also protect your privet app, pay app and trading app. So you can avoid memorize password and it gave speed for unlock your phone
Also get a face unlock system. You can use both of them easily and smoothly.
Power cool technology
We all know that when we play a game for long time so our phone getting heat so it technology provide a cooling technology so you can play without any time laps. This technology also useful in hot weather because we feel our phone hot in summer because of environment temperature.so this is useful to use your phone continuesly and frequently.
Software update of samsung galaxy m33 5G
Samsung say that this phone come with 2 year os upadate and 4 year security updates so you can steap with future phone and you can't feel out dated.
Corns of the phone
Samsung didn't provide charging adapter in the box because company follow latest green phone criteria so you can buy it from samsung care.
Samsung didn't provide LCD display but TFT display is looking better comparison to other TFT display phone.
Decent selfi camera .
Reason to buy samsung galaxy m33 5G
Monster battery backup (6000MAH )
Design of this phone is looking very dashing and royal
Expandable internal storage options
6/128&8/128 GB RAM and internal storage combination
16 GB Expandable virtual RAM
Autoswitching data feauter
5G supported
50MP main camera and it's features.